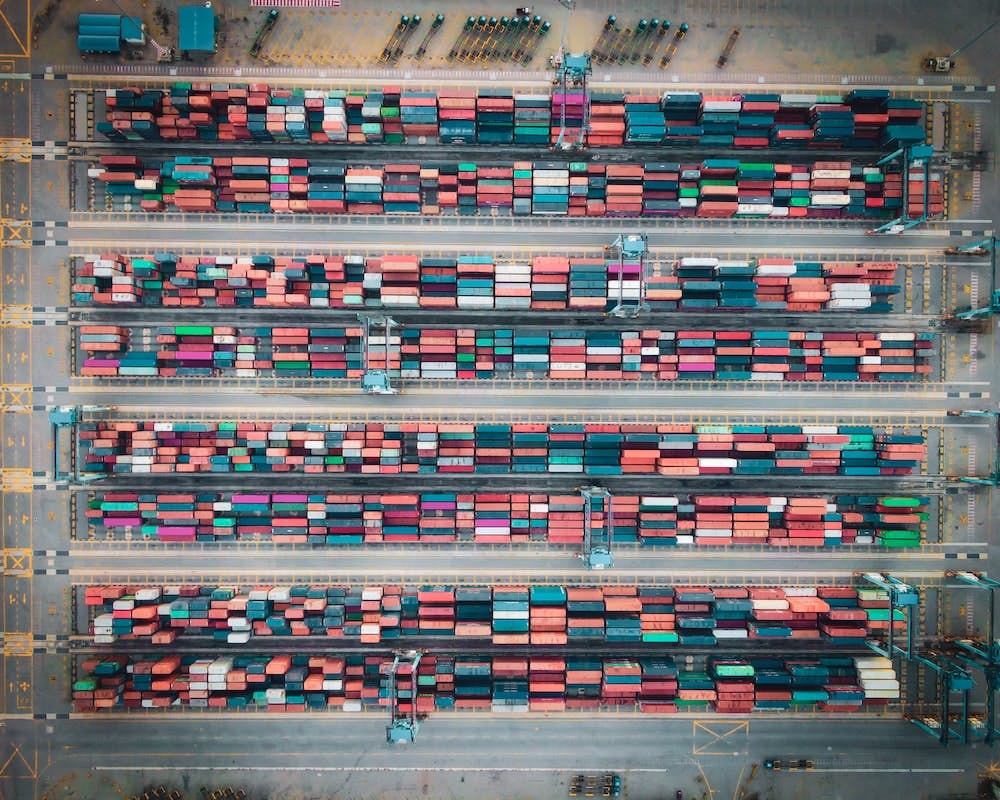 MARKET INSIGHT #1
Unplanned transshipments
Never heard about unplanned transshipments? Yet, it affected up to 1 out of 7 shipments in 2022. You might be interested to know about our findings.
What you need to know about transshipment
Transshipment, which involves transferring goods from one vessel to another, can be scheduled or may occur unexpectedly. If this transshipment was not communicated by the shipping lines at the time of booking, it is an unplanned transshipment. 
Unplanned port omissions caused by congestion, bad weather, unexpected events, etc. at the port of discharge are often the reason why shipping lines have to unload the containers at another port, which was not part of the initial route. Then, containers are unloaded for re-marshaling and left at the terminal, resulting in delays as they wait for the next vessel. In the case of containers transporting dangerous materials, those unplanned transshipments can be even more challenging as not all ports are equipped to deal with those labeled containers.
Why unplanned transshipments can be an issue?
While it was usually seamless for the company to plan the loading on the next vessel, since the covid-19 pandemic, this procedure has been disrupted, leading to an unprecedented level of delays. But even in normal circumstances, the next vessel cargo stop on the same shipping line at the port of loading can be up to 7 to 15 days later.
In some rare cases, containers may also even be reloaded onto the wrong vessel and unexpectedly arrive at a different port from the original destination.
In the case of perishing and seasonal goods or for products under inventory pressure, those delays can have a tremendous effect on costs, sales, and customer satisfaction.
What are the consequences of unplanned transshipment?
An analysis extracted from Wakeo's data analytics on a significant sample of shipments in 2022 showed that 84% of shipments affected by unplanned transshipment were late, compared to 58 to 61% in case of no or planned transshipment.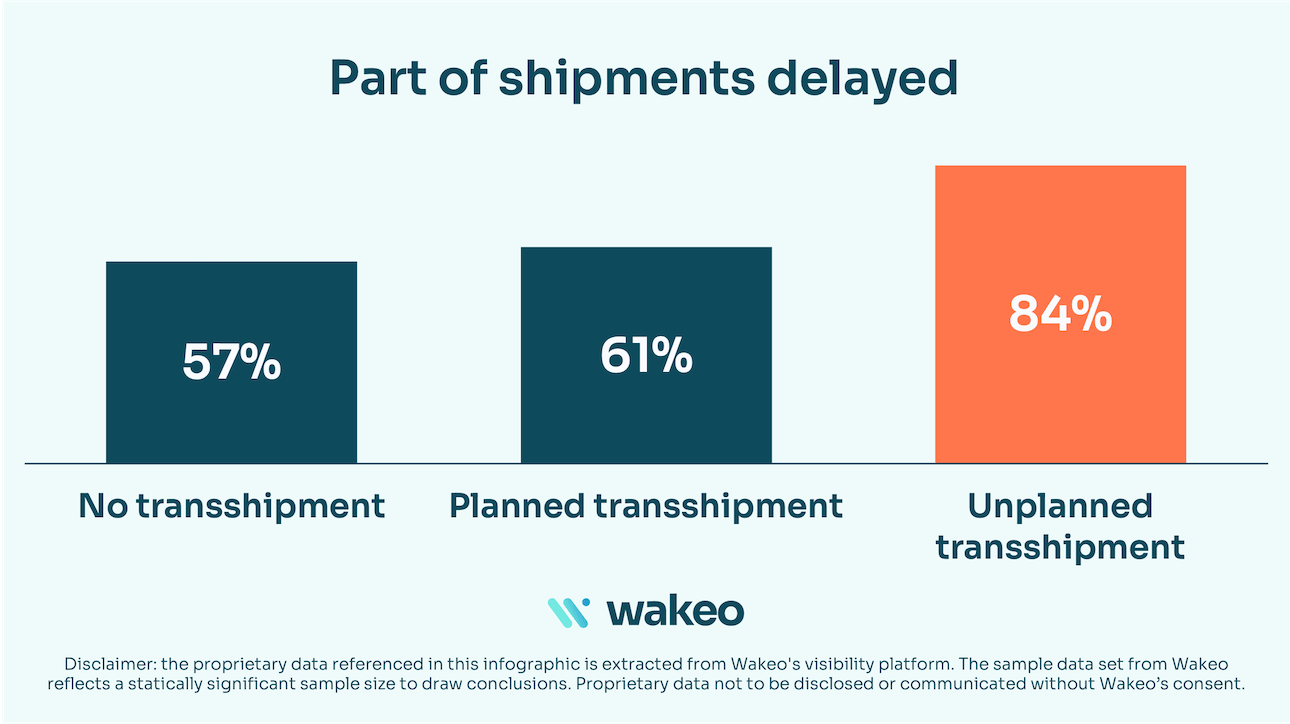 This analysis also emphasized the fact that an unplanned transshipment can lead to an additional delay at the port of destination of 7,7 to 8,1 days (in comparison to a shipment without transshipment or with planned transshipment).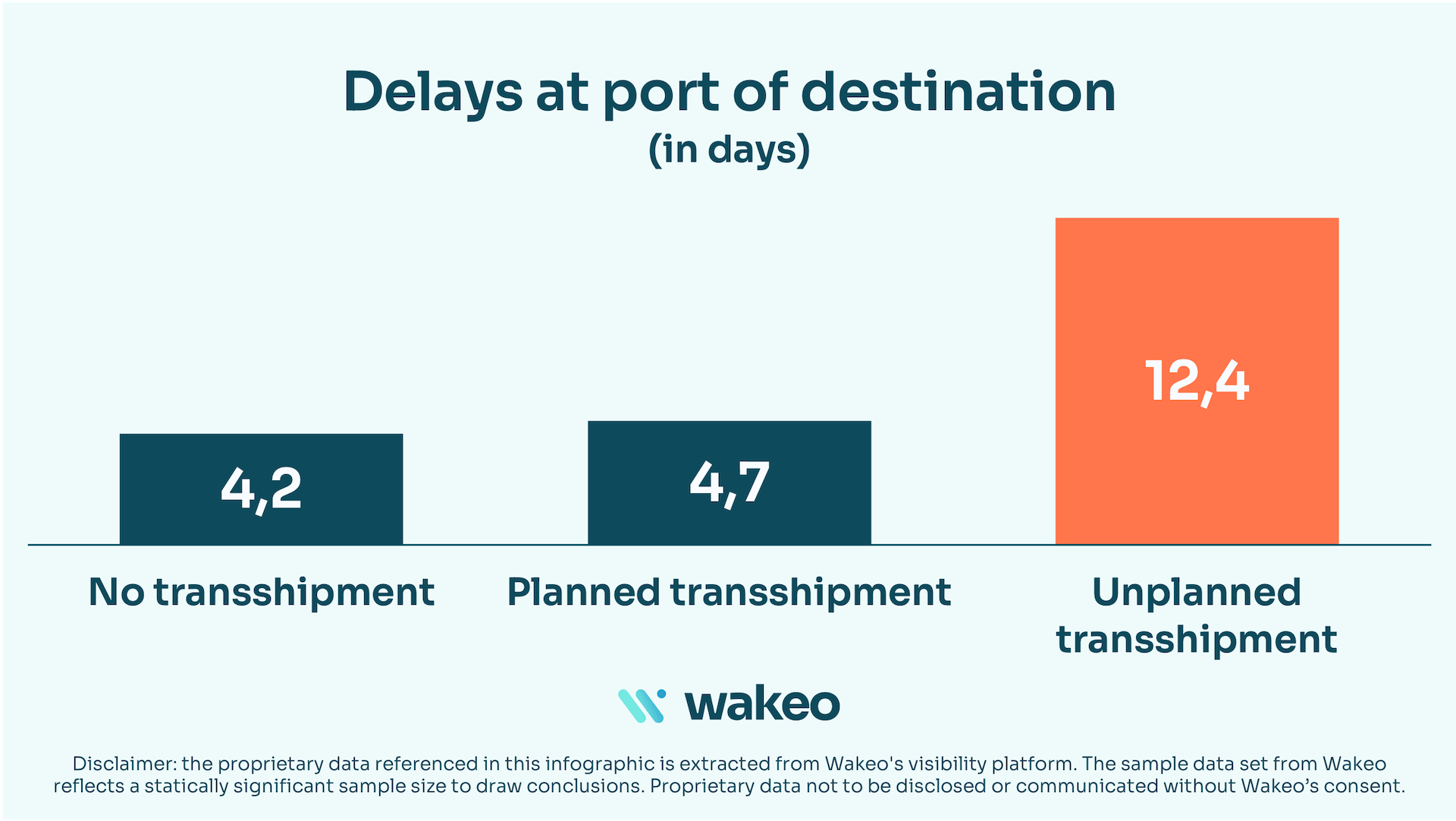 If not communicated, an unplanned transshipment can cause additional delays and operational costs to figure out where the container is located in addition to the inventory risks related to unexpected delays.
Reducing Disruptions and Costs with Real-Time Visibility in the Face of Unplanned Transshipment
Wakeo's predictive ETA provides shippers with the information they need, in advance, to anticipate and evaluate the impact of the delays on inventory level. Once they identify the potential delays at SKU level, they can accelerate the transport of other shipments, when possible, to secure their inventory level. Predictive ETA can also facilitate an agile switch to another mode of transport to accelerate the transport of the shipment that had been delayed while avoiding costly emergency measures - air freight is often used as an emergency, yet costly, solution. For example, our predictive ETA technology enabled one of our clients in the construction industry to reduce last-minute air shipments and other transportation costs by 20%, saving them up to $1m per year.
Wakeo intelligent analytics dashboards can help companies better prepare for potential disruptions, allowing them to proactively implement contingency plans and minimize the risk of unplanned transshipment. Our dashboards also help to identify recurring delays on a specific route or leg or shipping lines. With historical data on performance, our customers can measure the service level provided by their transport service providers. This is especially valuable to evaluate the fulfillment of the terms of the contract of a direct shipment for instance and renegotiate the contract accordingly.
Overall, real-time visibility can help logistics and supply chain managers better manage the risks and impacts associated with unplanned transshipment by providing them with the information they need, at the right time, to make informed timely decisions.