Sign up now for the webinar replay of Trusted Routes, and learn how to assess trade lane reliability and environmental impact!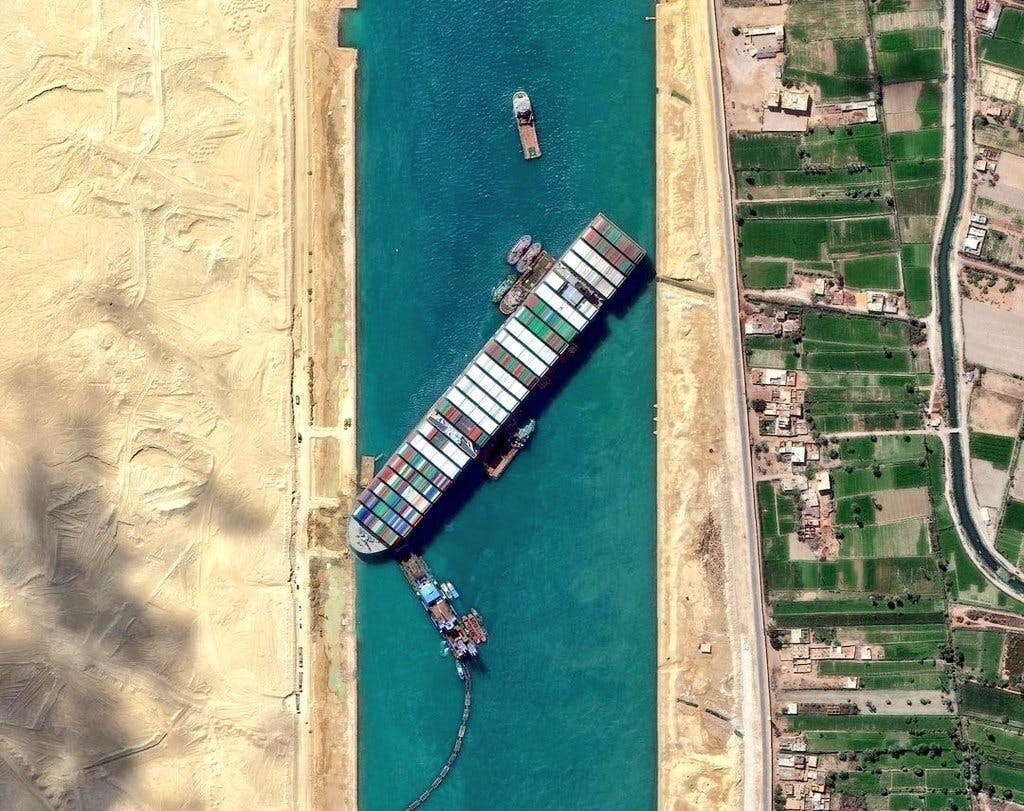 Supply chain news
Suez Canal blockage: is "when will we get back to normal" the real question?
After six days of blockage, the mega-container ship Ever Given is finally free and the Suez Canal is unblocked. But this is not the end of a problem, it is just a beginning. The Suez Canal blockage will have a tremendous effect on the global supply chain in the coming weeks and months.
The domino effect of the Suez blockage
Data from shipping expert Lloyd's List values the canal's westbound traffic at roughly $5.1bn a day, and eastbound daily traffic at around $4.5bn, a total of $57.6bn for the six-day blockage. According to Reuters, about 30% of global container shipping volumes pass through the canal each day.
The backlog of some 350 vessels waiting to transit the waterway is expected to be cleared by this weekend. With concerns that the Suez Canal operation could take weeks, some ships decided to get around the Suez Canal via the southern tip of Africa. As a consequence, delayed containerships will arrive in North Europe concurrently with the vessels re-routed via Cape of Good Hope. This massive flow of vessels will lead to jams into North European container hubs that are already struggling for one year to cope with the flows of imports from Asia. And we will be facing the same issue in the US, especially in the East Coast sites like Savannah and Charleston, which are already saturated.
To clear backlogs, we will presumably notice a lot of "vessel bunching" in the coming weeks that will worsen port congestion, especially in Europe. Carriers will unload cargoes intended for various European ports at one port to get ships back to Asia faster, using other means like feeders to get the boxes to the destination port in Europe. Liners may also skip ports and cancel sailings to catch up with their schedules.
This odd event not only will affect imports. Full cargoes remaining in Europe mean empty containers that will not arrive in Asia. Container availability was starting to improve compared to the extreme shortage faced at the beginning of the year. But the disruptions that will face European and US ports will damage this progress. A customer advisory from Maersk warned that the Suez crisis could result in a loss of capacity of "20%-30% over multiple weeks, depending on market dynamics".
How can Wakeo limit the impact of such events with real-time visibility?
For shippers, the impact of the Suez Canal crisis on business is colossal: stock replenishment delays, inventory shortages, extra costs for last-minute backup transport, additional operational costs, etc. Those impacts are ineluctable. Therefore, real-time visibility can help you better anticipate such situations, measure their impact on operations and their cost, and mitigate their outcomes.
During the Suez Canal blockage, Wakeo's geolocalization tool helped our customers to identify affected vessels and products quickly. By connecting data from previously siloed sources across all modes - sea, air, FTL & LTL, rail, etc.- and spreading them through the entire organization using APIs, Wakeo provides end-to-end and reliable visibility across the entire supply chain in real-time. Real-time and reliable data available at any time facilitated communication and operations. Instead of seeking accurate information, teams could focus on higher added-value actions. For instance, they could proactively communicate to their customers the effects of the crisis and plan operations to manage the situation.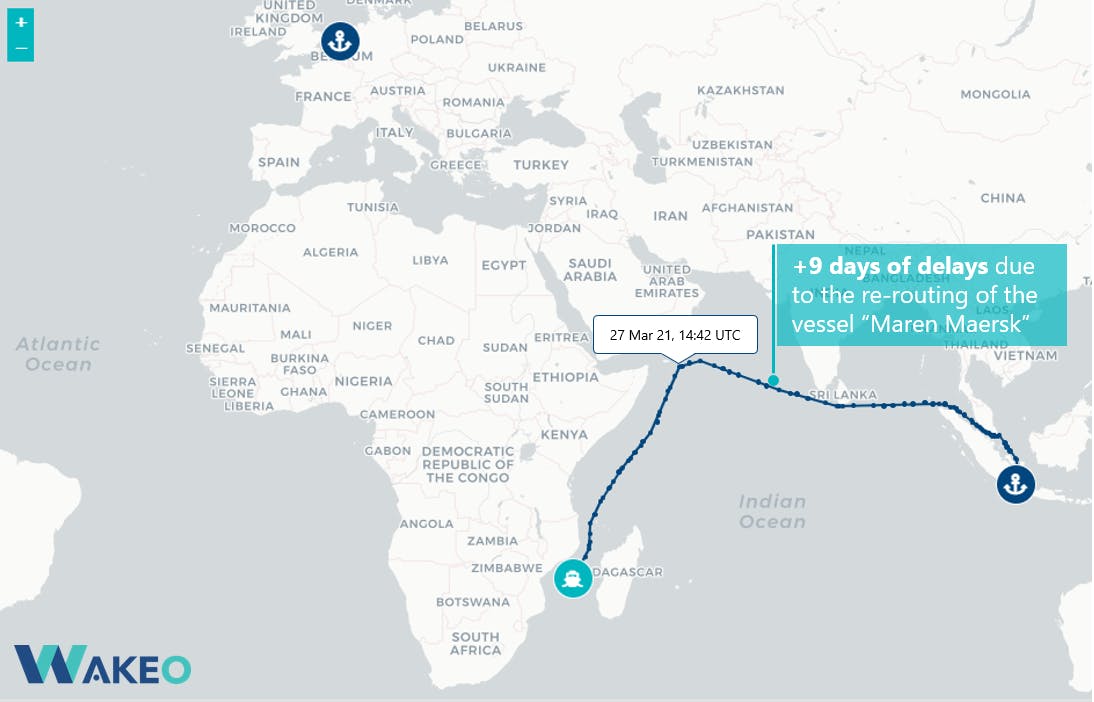 The Suez Canal crisis led to many vessels rerouting via the Cape of Good Hope in South Africa. Significant volumes of containers are delayed with + 9 to 11 days on China to Europe trade lanes. This new routing will have a direct impact on ETA (Estimated Time of Arrival) with a significant increase of transit times to reach European Ports (incl. Rotterdam, Antwerpen, Hamburg, etc.).
Read more to know how reliability and interoperability can boost existing systems with real-time visibility.
In case of odd events, the system also pushes information proactively, allowing to take the right decision as soon as possible. For instance, anticipating backup emergency transport, even for a few days, can save our customers thousands of dollars compared to last-minute rerouting. The reliable KPIs provided in the Analytics module also supports strategic supply chain decisions by leveraging historical data and transit times evolution over the coming weeks. It provides a comprehensive understanding of transit times that customers can rely on to optimize inventory management and prevent shortages. 
As an illustration, transit times are expected to increase by +30% in April between Shenzhen and Rotterdam, one of the main trade lane between Asia and Europe.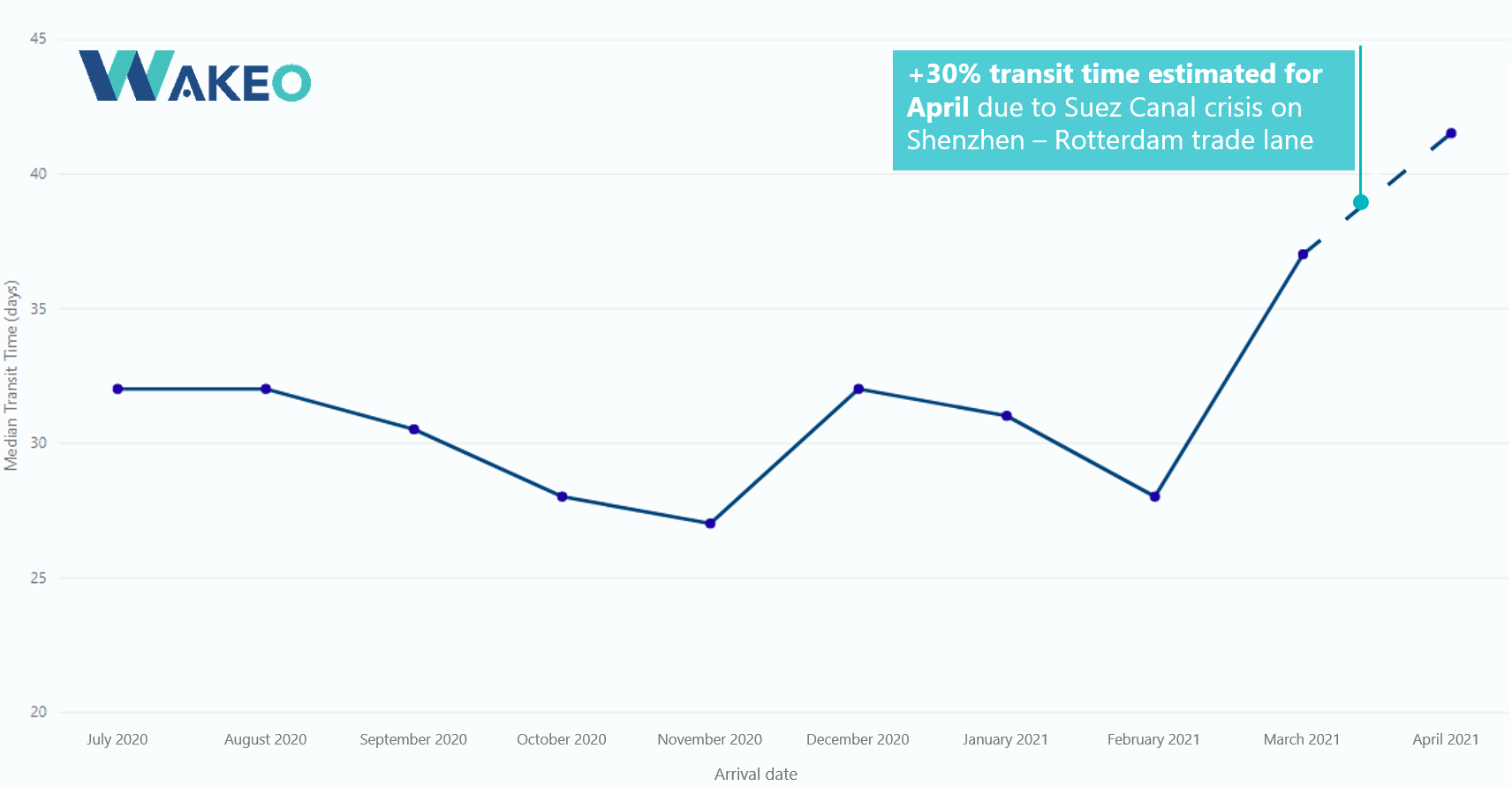 In the coming weeks or months, the double effects of labor shortage due to Covid19 and port congestion will lead to an increase in detention and demurrage. Demurrage and detention dashboard will enable our customers to keep an eye on standing containers compared to negotiated free-time and alert them when extra charges occur. This real-time visibility on container status will help to take action and find a solution with their freight forwarder. Prioritizing the release of containers that are overpassing free-time allowance will mitigate the impact of the Suez Canal blockage.